Blue Billicat Collections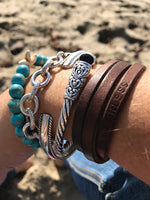 Why Blue Billicat?
Many days in the Southern California sand have helped us to develop a love for the beach, the vibe, and the casually beautiful accessories that accompany this lifestyle and look. 
Whether near or far, our designs and selections are intended to take you to the beach in spirit, relaxing, enjoying the scenery, and taking in the amazing landscape of low tide, rolling waves, and sunsets.
We look forward to providing some inspiration, relaxation, and fun. Take a look around. We're so glad you're here!